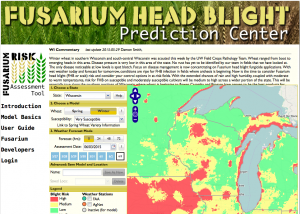 Damon Smith, Extension Field Crops Pathologist, Department of Plant Pathology, University of Wisconsin-Madison
We have scouted wheat from South of Madison, Wisconsin up through to near Fond du Lac this week. Most winter wheat we have looked at has headed and quickly approaching anthesis. The winter wheat variety 'Kaskaskia' was at early anthesis today. Now is the time to make a decision on spraying for Fusarium head blight (FHB). The Fusarium Head Blight Prediction Center (http://www.wheatscab.psu.edu) has the majority of Wisconsin listed at low risk for a susceptible winter wheat variety. However, clicking the box to run the prediction for a 'very susceptible' winter wheat variety changes much of the state to medium risk and some areas at 'high risk' for FHB (Fig 1). With the warm and dry weather this week, the question has been "Should I spray for FHB?" In short, I think the answer to this question is 'yes' especially for farms and fields that have had a history of FHB.
If we consider the biology of the fungus and the epidemiology of FHB, the past, present, and future weather patterns are all important. Weather over the past couple of weeks has been rainy and wet. This has served to 'prime' the FHB fungus to make spores. Even with the dry weather this week, there is bound to be spores of the FHB fungus present and blowing around. Now if we consider the weather over the next few days, it looks like a pretty good chance for on-and-off rain with warm conditions; weather just ripe for FHB. Considering the conditions and the fact that anthesis is occurring this week, I think spraying is a good decision. Additionally, the fungicide applications at this stage will protect flag leaves from foliar diseases like rust, Septoria leaf blotch, or powdery mildew, should they move in over the next few weeks during grain fill.
Caramba and Prosaro have proven to be the best products for FHB control, however, timing of application is critical. These products must be applied at the beginning of anthesis with good efficacy achievable up to 5-7 days after the start of this growth stage. Fungicide application after 7 days post-anthesis is not recommended. You can watch a video of Dr. Shawn Conley describing how to identify this important growth stage by clicking here.
We continue to look for other wheat diseases around the state. We have not observed any rust on winter wheat in Wisconsin. Additionally, no powdery mildew and no Septoria leaf blotch have been observed on our scouting trips. We will continue to monitor the winter wheat disease situation as we move into grain fill.
https://badgercropdoc.com/wp-content/uploads/sites/5/6.3-FHB-300x214.png
0
0
damonsmith
http://badgercropdoc.com/wp-content/uploads/sites/5/2018/05/bcd-color-300x153.png
damonsmith
2015-06-03 16:48:58
2015-06-03 16:48:58
Wisconsin Winter Wheat Disease Update: June 3