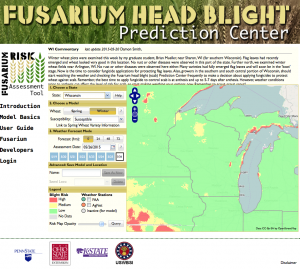 Damon Smith, Extension Field Crops Pathologist, Department of Plant Pathology, University of Wisconsin-Madison
Winter wheat in the south and south-central portions of Wisconsin is quickly approaching heading. Most wheat we have looked at recently is at boot stage with some beginning to head. Anthesis (flowering) will be occurring very soon if it hasn't already happened in these fields. Now is the time to consider Fusarium head blight (FHB or scab) risk and consider your control options in at-risk fields. With anthesis occurring this week in some fields, and the prolonged wet weather forecast for this week, growers and consultants should pay close attention to this situation. The risk for FHB will likely be high this week especially on susceptible varieties.  To learn more about FHB on wheat you can download a fact sheet by CLICKING HERE.
In addition to considering the weather conditions, you can consult the FHB Prediction Center. I recently wrote a post about the FHB Risk Tool and how to best use it. You can read more about the tool BY CLICKING HERE. Currently, the risk tool is predicting medium to high risk only along the Lake Michigan shore. However, I think this will change as we proceed through the week.  With the extended chances of rain and high humidity, coupled with moderate to warm temperatures, risk for FHB on susceptible and moderately susceptible cultivars will be medium to high across a wider portion of the state. This will be especially true along the southern portions of Wisconsin where wheat is  beginning to flower this week. Caramba and Prosaro have proven to be the best products for FHB control (see the Small Grains Fungicide Efficacy Table), however, timing of application is critical. These products must be applied at first flower with good efficacy achievable up to 5-7 days after the start of anthesis.  Fungicide application after 7 days post-anthesis is not recommended. Pay close attention to the FHB situation this week.
Other wheat diseases in Wisconsin have been fairly minimal. My graduate students managed to find and identify low levels of spot blotch on some plants at our Sharon, WI and Arlington, WI locations last Friday (May 22). The severity was relatively low. Rust and other diseases have not been identified in wheat fields we have traveled to. We will continue to scout and monitor the wheat disease situation as we head toward anthesis.
https://badgercropdoc.com/wp-content/uploads/sites/5/Screen-Shot-2015-05-26-at-12.26.43-PM-300x269.png
0
0
damonsmith
http://badgercropdoc.com/wp-content/uploads/sites/5/2018/05/bcd-color-300x153.png
damonsmith
2015-05-26 11:44:54
2015-05-26 11:44:54
Wisconsin Winter Wheat Disease Update - May 26