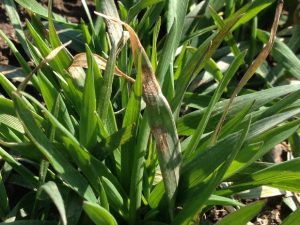 Damon L. Smith, Extension Field Crops Pathologist, University of Wisconsin-Madison
Brian D. Mueller, Graduate Research Assistant, University of Wisconsin-Madison
Winter wheat in southern and south central Wisconsin was scouted on April 7 and 8, 2016 by the Wisconsin Field Crops Pathology research and extension crew. Locations of scouting included Sharon, Wisconsin near the Illinois border and Arlington, Wisconsin north of Madison. At both locations Septoria leaf blotch was observed on young, tillering winter wheat plants (Fig. 1). Septoria leaf blotch is caused by the fungus Septoria tritici. Typically this pathogen isn't identified on wheat in Wisconsin until closer to flag leaf emergence. The presence of the pathogen this early in the season is likely due to the mild, wet conditions we have had this spring. Other common leaf blotch disease can be caused by other fungi such as Stagnospora nodorum or Stagnospora avenae f. sp. triticae. However, in Wisconsin the most common causal agent of leaf blotch is Septoria tritici. Septoria leaf blotch can often be diagnosed based on the presence of darkly pigmented fruiting bodies (Fig. 2) that exude gelatinous spore masses when incubated in a humidity chamber (Fig. 3). To definitely differentiate this fungus from Stagnospora nodorum, however, spores need to be examined microscopically in the UW Diagnostic Clinic. For information on how to submit samples, CLICK HERE. For more information on leaf blotch diseases of winter wheat in Wisconsin and management of these diseases, CLICK HERE TO DOWNLOAD AN EXTENSION FACT SHEET.
Under the current conditions this season, a fungicide application IS NOT recommended as the pressure is low and little yield loss would be expected from a light epidemic early in the season. However, growers and consultants should scout fields and monitor the situation carefully.  Should conditions continue to be mild and wet, disease may increase and require the application of fungicide to manage the disease. Past research in Wisconsin has demonstrated little need for application of fungicide prior to flag leaf emergence (Feekes 8 growth stage). In 2013, a significant epidemic of Septoria leaf blotch was present in a fungicide trial on winter wheat located in Arlington, Wisconsin. In that trial, the fungus that causes Septoria leaf blotch was active around the same time as noted this season. Application of fungicide at the Feekes 5 growth stage resulted in just marginal control of Septoria leaf blotch. To review the results of this trial, CLICK ON THIS LINK, and scroll to down to pages 9 and 10.
At all locations no stripe rust was observed. However, given recent reports of stripe rust occurring in locations in the Southern and central U.S., winter wheat growers should pay close attention to this disease. For more information about stripe rust and stripe rust management please check out our previous post from 2015 located by CLICKING HERE.
Be sure to check back to the blog frequently for winter wheat disease updates in 2016!
https://badgercropdoc.com/wp-content/uploads/sites/5/Septoria-1-300x225.jpg
0
0
damonsmith
http://badgercropdoc.com/wp-content/uploads/sites/5/2018/05/bcd-color-300x153.png
damonsmith
2016-04-13 15:45:36
2016-04-13 15:45:36
Wisconsin Winter Wheat Disease Update - April 13