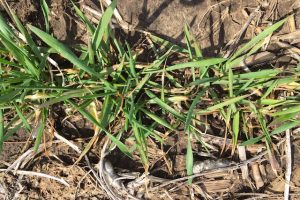 Damon Smith, Extension Field Crops Pathologist, Department of Plant Pathology, University of Wisconsin-Madison
This week I scouted winter wheat in research trials located at the Arlington Agricultural research station and also some commercial fields in southern Wisconsin. Wheat in these locations has greened up and is beginning to tiller (Fig. 1). I have observed very little winterkill on winter wheat in the fields I have looked at. Overall the winter wheat crop is looking good at these early stages with stands looking strong for the most part (Fig. 2).
Unlike the last couple of years, I have not observed any wheat diseases yet. Sometimes, Septoria leaf blotch can be observed very early in Wisconsin. We should begin to scout for diseases during these early tillering periods. If you find that Septoria leaf blotch is already present in wheat fields, then the base is set to build disease quickly if conditions are cool and wet this spring. If the spring turns to being cool and wet and a susceptible variety present, then this disease will increase and can cause enough damage to limit grain yield. To learn more about leaf blotch disease on wheat, consult THIS FACT SHEET.
Another disease to scout for at these early stages of wheat development is powdery mildew. This disease starts out as a white fluffy growth on the surface of the leaves and can progress quickly when humidity is high and temperatures fluctuate from warm days to cool nights. As the disease progresses, it can continue to cover more leaves, and the white growth may become more gray or brown in appearance. Like Septoria, if you notice early infections of powdery mildew, you have a susceptible variety planted, and conditions are conducive for the disease, then careful monitoring will be critical for making decisions about in-season control. To learn more about powdery mildew on wheat, consult THIS FACT SHEET.
Spraying fungicide when plants are very young (prior to jointing) isn't generally recommended in Wisconsin. However, spraying to protect the flag leaf and later growth stages during heading can help preserve yield when this disease is a problem. In 2013 we conducted a fungicide trial on wheat where Septoria leaf blotch was the main disease of concern. In that trial we found that applications of fungicide at the early flag leaf emergence stage (Feekes 8) gave us good control of Septoria leaf blotch, which translated into giving us a yield increase over not spraying or spraying prior to jointing (Feekes 5). To read more about the results of this fungicide trial, you can visit THIS WEBPAGE.
In 2014, conditions were not very favorable for leaf diseases on winter wheat. However, Fusarium head scab was prevalent throughout much of Wisconsin. In our 2014 fungicide efficacy trials, we found that spraying at flag leaf emergence (Feekes 8) did not offer much yield advantage. However, spraying at anthesis (first flower; Feekes 10.5.1) did provide a significant increase in yield and significantly reduced the level of vomitoxin in grain samples. To read more about the results of the 2014 fungicide trial, you can visit THIS WEBPAGE.
The 2013 and 2014 field trials demonstrate the importance of frequent scouting of wheat to determine the right timing of fungicide application. In some years, you might need to spray at Feekes 8, in others at Feekes 10.5.1, while in some years at both timings.
In addition to the results of our field trials, you might also consult the 2015 Small Grains Fungicide Efficacy Table that was recently updated. This table offers unbiased, university research-based ratings of fungicides used on small grains. It is compiled by university research and extension pathologists from all over the country. You can find the latest table by CLICKING HERE.
It is a good idea to begin scouting now to determine what diseases are already present in wheat. Continue to watch weather forecasts as the crop matures and make plans for disease intervention measures (such as fungicide) if conducive disease conditions are present near flag leaf emergence and/or heading later this season. SCOUT, SCOUT, SCOUT!
https://badgercropdoc.com/wp-content/uploads/sites/5/Wheat-2015-300x200.jpg
0
0
damonsmith
http://badgercropdoc.com/wp-content/uploads/sites/5/2018/05/bcd-color-300x153.png
damonsmith
2015-04-15 10:18:15
2015-04-15 10:18:15
Wisconsin Winter Wheat Disease Update – April 15, 2015