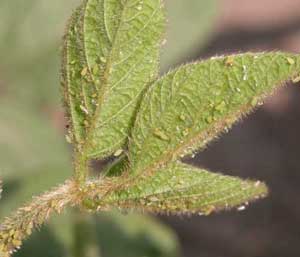 Erin Hodgson, Extension Specialist at Iowa State University offers a how-to lesson on soybean aphid speed scouting.
Visit this link to view an open access webcast on the technique.
Speed scouting is an easier, more efficient method of estimating whether aphids will have a significant economic impact on soybean, helping the grower or consultant more quickly decide if a treatment is warranted.
The presentation also includes some examples of possible treatment decisions and a new paperless way to sample.
Key points about aphid speed-scouting:
Speed scouting is based on the established economic  threshold of 250 aphids/plant, R1-R5 soybean growth stages, with aphids actively increasing in the field.
This is a bionomial, sequential sampling plan. This means  each sampled plant is categorized as "infested" or "not  infested" (yes/no). The cutoff point for a yes/no decision is 40 aphids. If a plant has 39 or less aphids it is "not infested". If a plant has 40 or more aphids it is "infested".
This is done in a sequential manner until a treatment decision is reached. A minimum of 11 plants must be sampled under the speed scouting plan. Under very low or very high aphid densities, this may be all the plants that are needed to make a non-treat or treat decision.  A maximum of 31 plants may be required on the speed scouting plan.  If the treatment decision can't  be clearly called in a 31 plant sample, the speed-scouting method will require a re-sample in 3 to 4 days.
40 aphids/plant is not a new economic threshold. Rather it is the "cutoff point" on individiual plants sampled to make the call "not infested" (39 or less aphids) or "infested" (40 or more aphids). This binomial cutoff point was mathematically determined based on proportion of plants infested, density of aphids per plant, and the 250 aphids/plant economic threshold.
Speed scouting is a conservative sampling method meaning that it consistently recommends treatment before aphid populations reach the economic  threshold using whole plant counts. For this reason, the speed scouting protocol recommends that you confirm a "treat" decision by re-sampling the field in 3-4 days before treating.
https://badgercropdoc.com/wp-content/uploads/sites/5/aphidsoywi.jpg
0
0
damonsmith
http://badgercropdoc.com/wp-content/uploads/sites/5/2018/05/bcd-color-300x153.png
damonsmith
2011-08-08 08:28:15
2011-08-08 08:28:15
New how-to webcast on soybean aphid speed scouting